Services
General Contracting and Engineering Services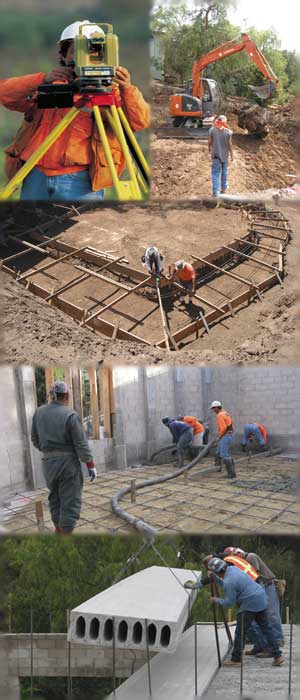 These are some of the construction services Seguro Corporation offers. Dedicated to green and natural building, we work with Residential, Commercial, and General Engineering Projects, as well as steel buildings and other fire resistive building technologies. The team at Seguro Corporation enjoys cutting edge construction which involves thinking outside the conventional construction box.
Natural Construction
Environmental Construction
Fire Resistant Structures
Steel Buildings
Design and Build

General Contracting
General Engineering
Owner Representation
Tenant Improvements
Remodels
Natural Construction
Through building with local material and natural products, we hope to bring a healthier and minimal environmental impact construction to our projects. We enjoy using ideas and techniques from generations before; bringing old world to our current world. Our planet requires natural and green building practices to ensure the well-being of future generations. Seguro Corporation finds fulfillment in helping our planet and fellow mankind to provide a healthier future for all.
Environmental Construction
Through new building products and designs, Seguro Corporation hopes to lessen our carbon footprint and impact on our environment. We utilize green products, such as Forest Stewardship Certified (FSC) Lumbers, Solar – Electrical and Water, Gray Water, Living Roof and Wall Systems, Pervious Concrete, Etc.
Fire Resistant Structures
Due to the recent fires throughout California, Seguro Corporation has made it a priority to learn better ways to provide safer and more fire resistant structures. We have recently teamed up with a major US Steel Building company and Air Krete to pull together a system for the ultimate fire resistant structure. See the Steel Building page for more information.
Steel Buildings
We are always researching new ways to bring our clients solid construction in an efficient manner. We have found steel buildings to be a solid solution to this dilemma. Steel Buildings are environmentally safe green buildings, quick to construct, made of long-term materials and structurally sound - capable of large ceiling spans.
Design and Build
We have a group of designers and architects we work with, to help provide you with the most complete building, quality and budget. From visualizing the project to turn key, Seguro Corporation enjoys being there from start to finish.
General Contracting
Building is a tricky business and Seguro Corporation takes pride in finding the correct resources and tradesmen for your project. We provide estimating, scheduling and site supervision. We only perform quality work and will not settle for anything less.
General Engineering
For large structural building components and site utility work which require close coordination with engineers through shop drawings, design submittals and strict document control, Seguro Corporation can help. We have worked on a variety of large projects with public works and universities.
Owner Representation
Owner's representative can be used in many different scenarios to deliver a project in an effective manner. Speak with a Seguro Corporation representative to see how owner representation can assist your project.
Tenant Improvements
Commercial interior remodels demand quick completion and detail to budget. Seguro Corporation understands that everyday a business is closed, money is lost. We hope to bring your new business the attention it deserves.
Remodels
This is a specialty which does not get the respect it deserves. If your building remodel requires matching existing textures, moldings, attaching to existing structures making it look as though there is no separation, then Seguro Corporation can help. It takes patience and time to bring all the necessary pieces together to make a remodeled structure look seemless from where the new begins and the old ends.